YEHWEH
John 14:6 (NLT) 6 Jesus told him, "I am the WAY, the TRUTH, and the LIFE. No one can come to the Father except through me.


Tuesday, June 7, 2016
Holy Worms

Monday, June 6, 2016
Growing up, I would look out after a rain storm and see the worms. It was worm heaven. Worms can be heavenly. Jonah was a prophet who resisted his call, who was miserable at the end. He was under the shade of a plant and God "prepared" a worm to eat the plant. In Hebrew, manah means appoint or ordain. God ordained a worm. Jonah served the Lord begrudgingly. But the worm served God with all his heart and happily ate the plant. The worm just did what it was born to do. It served God, and it was blessed and full. That's what ministry is. God is calling you to serve Him. So stop avoiding Him, stop complaining, and stop serving Him begrudgingly. Just do it, because it's your calling to do what you were made for. Serve Him with all your heart. Delight yourself in the Lord and He will give you the desire of your heart. Serve Him. Repent and minister; you were born for it. You wi ll end up blessed and filled with joy. You will be as happy as a worm.
From Message #411 The Prophet, The Worm, and The Answer
Scripture: Josh. 22:5
Today's Mission - Today rejoice that you were made for such a time as this. Do what He's called you to do; do the will of God, but with your whole heart.
To Donate to Hope of the World Ministries:
Click here
To Receive Free Gifts & Prophetic Updates:
Click Here
.
Compassion Projects: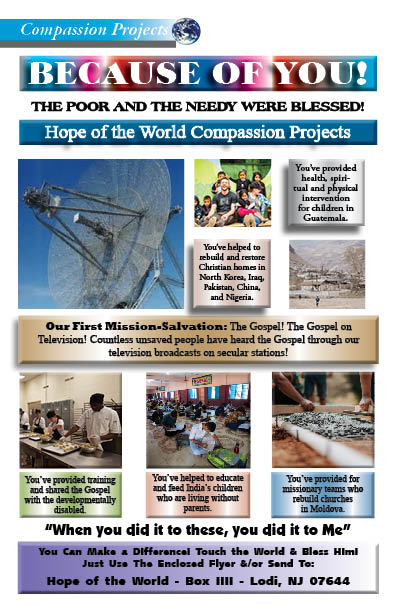 Posted by

YEH WEH
at 10:13 PM
No comments:


Links to this post
| | |
| --- | --- |
| Breaking News from Joe Miller, Fighting for Your Liberty | |
Copyright © 2016 JoeMiller.US, All rights reserved.

* Privacy Policy: We take your privacy very seriously and will never sell, rent or otherwise share your email address with third parties. You are receiving this newsletter because you expressly asked to receive information from us at the Joe Miller website. If this newsletter no longer suits your needs, please use the option below to cancel your subscription.

Our mailing address is:



Posted by

YEH WEH
at 10:12 PM
No comments:


Links to this post